Call Triple Zero (000) to report emergencies
How to report a fire by calling Triple Zero (000)
There a few simple steps in making a Triple Zero (000) call to report a fire:
Stay calm and call Triple Zero (000) from a safe location.
An operator will ask you if you need Police, Fire or Ambulance. Say "Fire". If you are calling using a mobile or satellite phone the operator will ask you for other location information.
You will then be connected to an emergency service operator, who will take details of the situation.
Stay on the line, speak clearly and answer the operator's questions.
Give them the details of where you are, including street number, name, nearest cross street, and locality. In rural areas it is important to give the full address and distances from landmarks and roads, not just the name of the property.
Don't hang up until the operator has all the information they need.
If possible wait outside at a prearranged meeting point or in a prominent location for fire services to arrive to assist them to locate the fire.
If you make a triple zero (000) call whilst travelling on a Motorway or on a rural road, know the direction you are travelling and the last exit or town you passed through to assist services to correctly locate the incident.
Additional tips
Other things everyone should know in an emergency
If a person is unable to speak English, if they call Triple Zero (000), say "fire" and leave the land line phone off the hook the call will be recorded and traced and a fire engine will be sent to that address.
Record the Triple Zero (000) emergency number beside the telephone at home and work.
Take time to teach children and overseas visitors how to make an emergency call.
Callers with hearing or speech impairments can call the one zero six (106) text-based emergency call service using a textphone.
Fact
Knowing how to call Triple Zero (000) for a fire emergency can be the difference between life and death, or a building or other property being saved or destroyed. The Triple Zero (000) service is the quickest way to get the right resources from emergency services to help you and should be used to contact Police, Fire or Ambulance services in life threatening or time critical situations.
Calls to Triple Zero (000) are free and can be made from mobile phones, home or work phones or pay phones.
Rural Fire Services:
Emergency information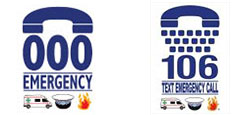 To report a fire emergency
Call Triple Zero (000)
If you are deaf or have a speech or hearing impairment call 106
For information on Bush fires
Check our Fires Near Me page for current incidents
Listen to local media
Check social media such as NSW RFS Facebook and NSW RFS Twitter
Bush Fire Information Line – 1800 679 737
If you are deaf, hard of hearing or have a speech impairment, contact us through the National Relay Service

TTY users phone 1800 555 677 then ask for 1800 679 737
Speak and Listen users phone 1800 555 727 then ask for 1800 679 737
Internet relay users connect to the NRS then ask for 1800 679 737
To report a fire or emergency (TTY users only), access TTY 106.
What to do during a fire
Remember
Follow your bush fire survival plan. If you do not have a bush fire survival plan, ensure you know what you will do before, during and after the fire.
Remember – leaving early is your safest option.
Before the fire
Put on your protective clothing
Turn on the radio to keep yourself informed
Bring pets inside and keep them in one room
Close all windows and doors
Block spaces beneath doors and windows with wet towels
Fill buckets, sinks and bath tubs with water ready to put out spot fires
Have your firefighting equipment like pumps and hoses connected to your water supply
Block downpipes and fill gutters with water
Remove items which can burn from around your home like outdoor furniture
Bring ladders inside to check roof space for embers
Patrol the outside of your home putting out any embers or spot fires
Just before the fire arrives, wet down timber decks and gardens close to the house
Move any firefighting equipment to a place where it will not get burnt
During the fire
Go inside but stay alert
Shelter in a room on the opposite side of the house from the approaching fire and one that has a clear exit out of the house
Patrol inside the house, including the roof space looking for sparks and embers
Protect yourself from the heat of the fire
If your life is at risk, call triple zero (000)
Once the fire has passed
Check your roof spaces
Go outside and put out any part of your house which is alight
Check under the house and any decks
Check on your pets and animals
Embers or sparks can start spot fires for many hours after the fire has passed
If you can, contact your family and friends and check on your neighbours